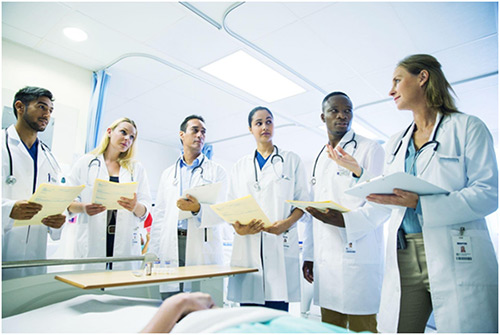 When considering hip or knee replacement surgery, choosing the right surgeon can be an overwhelming process. Balancing your individual needs with a surgeon's expertise should be a top priority in your decision.
Patients should understand the different levels of training required before an orthopedic surgeon goes into practice. Let's discuss what a medical fellowship program is, and why choosing a medical fellowship-trained surgeon should be a top priority.
What does it mean to be a fellowship-trained surgeon?
After completing medical school, a physician follows a specialist for a year or more to train in a subspecialty. For example, an orthopedic surgeon can follow a subspecialist in sports medicine, hand surgery, shoulder surgery, joint replacement, and more. In the fellowship program, the learning physician is known as a fellow. An orthopedic surgeon works for additional years after medical school to complete a fellowship training program in hip and knee surgeries, to become an expert, with hands-on training from a skilled and experienced surgeon. The surgeon must apply and be accepted into these competitive learning programs, where the fellows are trained and can assist in hundreds of surgeries before being awarded their credentials.
Why choose a fellowship-trained hip and knee replacement surgeon?
Highest Level of Training
Beyond the extensive years of education in undergrad, medical school, and residency, fellowship-trained doctors dedicate even more time to learning their subspecialty to the best of their ability. Most fellowship programs range from 1 to 3 years, reflecting these physicians' desire to obtain the highest level of training in their field.
Better Understanding of Hip and Knee Joint Replacement
The hip and knee joints are extremely complex and important for your mobility. To keep you moving comfortably, these fellowship-trained surgeons dedicate years of training specifically on the hip and knee.
Experience with Advanced Techniques and Technology
Fellowship-trained surgeons are typically up to speed on the latest technology and surgical techniques due to their hands-on experience and learning. These surgeons regularly attend medical conferences, conduct research, use modern advancements in joint replacement, and robotic technology.
More Experience in a Surgical Environment
Performing surgery can be a high-stress environment, with patient safety and wellness as the top priority. Fellowship training provides additional years of training in the operating room, to help gain experience and confidence while performing surgery.
Better Surgical Outcomes
Studies show that fellowship training can have a positive impact on patient outcomes.¹ The end goal of surgery is always to get the patient the best results possible.
Both hip replacement and knee replacement are major surgeries, which will have better results if your surgeon has more experience and enhanced qualifications from an esteemed fellowship program. Opting for a joint replacement surgeon with specialized fellowship training will ensure you receive the best quality of care for hip and knee replacement procedures.
AUTHOR: Robert J. Avino M.D. is a board-certified and fellowship-trained adult hip and knee reconstruction surgeon at Palm Beach Orthopaedic Institute. Dr. Avino specializes in robotic-assisted hip and knee replacement using the minimally invasive direct anterior approach to hip replacement, across Palm Beach County in South Florida.